Hotel Internet Marketing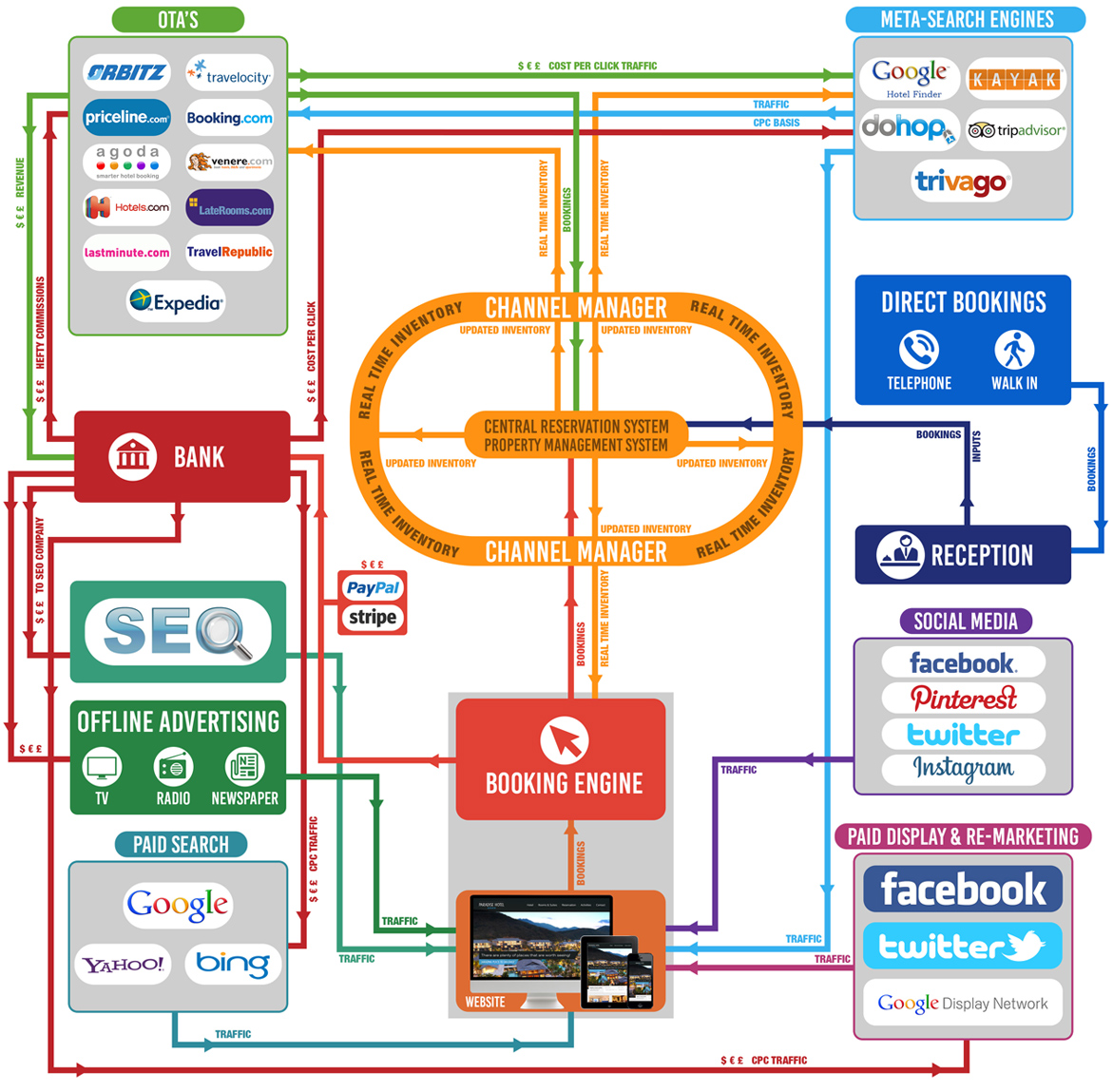 Hotel Internet Marketing is something of a minefield! Many hotels lament the 15% plus commissions that they have to continually pay to expensive online travel agents (OTAs) but are unsure of how to reduce their dependency on the OTAs by generating more cost effective bookings through other channels. DPFOC's hotel marketing service is focussed on increasing occupancy levels while simultaneously driving down cost per reservation.
Conversion Rate Optimization:
If your hotel is going to reduce its dependency on OTAs and so reduce your cost per reservation, you must have a website that converts visitors into guests at high rates. This requires a world class, mobile optimized website. Our hotel marketing team includes web designers who are experts in building hotel websites that do just this. Once you have a fantastic website, you have several options available to grow direct bookings. Regardless of which hotel marketing agency you choose, getting your website right should always be your first step.
Direct Traffic from Meta Search Engines:
Most hotels (and many hotel internet marketing agencies!) are still unaware that they can send their own room inventory directly to Meta search engines such as Google Hotels, Trivago and Trip Advisor. The norm is for the OTAs to send hotel inventory to these sites on behalf of the hotel; many hotel marketing agencies regularly do this. The dynamic then is that the OTA buys the clicks on a cost per click basis from the Meta search engine and sells the booking to the hotel for a large mark-up. By sending your inventory directly, you cut out the middleman and drive down your cost per reservation.
In the below screenshot, you can see that Booking.com and Expedia are buying the booking traffic for the Four Seasons New York on Google Hotels: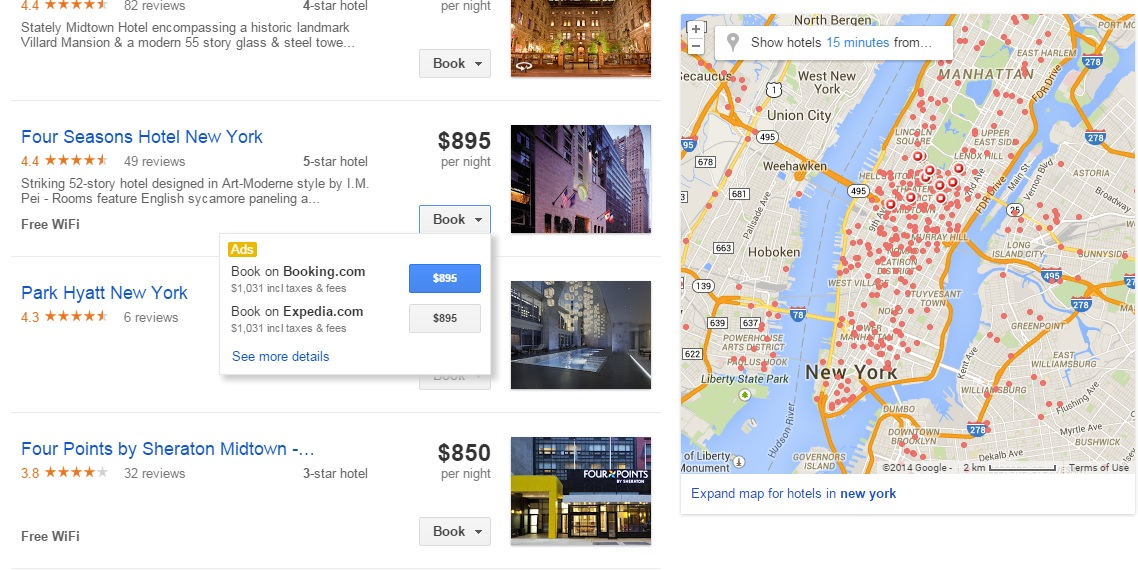 In the below screenshot, you can see The New York Palace sending its inventory directly to Google Hotel Finder thereby avoiding OTA commissions.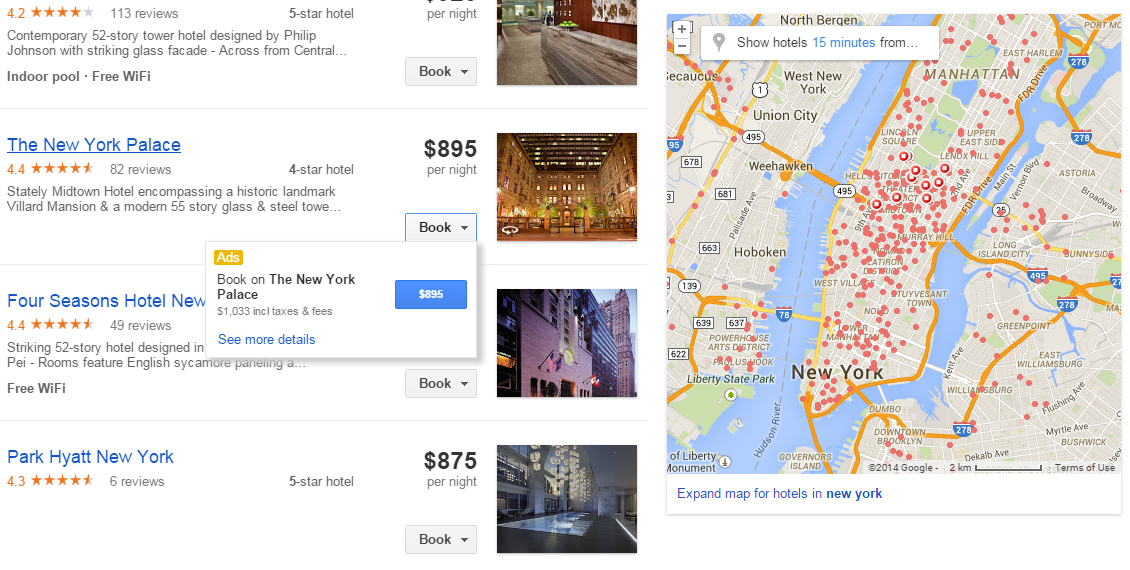 Search Engine Optimization:
Hotels have one major advantage over OTAs and Meta search engines: that is that they own a hotel! Ranking for local keywords (e.g. hotel California) in the organic search results is a lot easier if you have a Google+ Local page and you can only have such a page if you physically own a hotel. This means hotels can and regularly do outrank the goliaths such as booking.com in the organic search results. Our SEO experts understand the importance of high organic ranks in hotel marketing and so focus tightly on this area.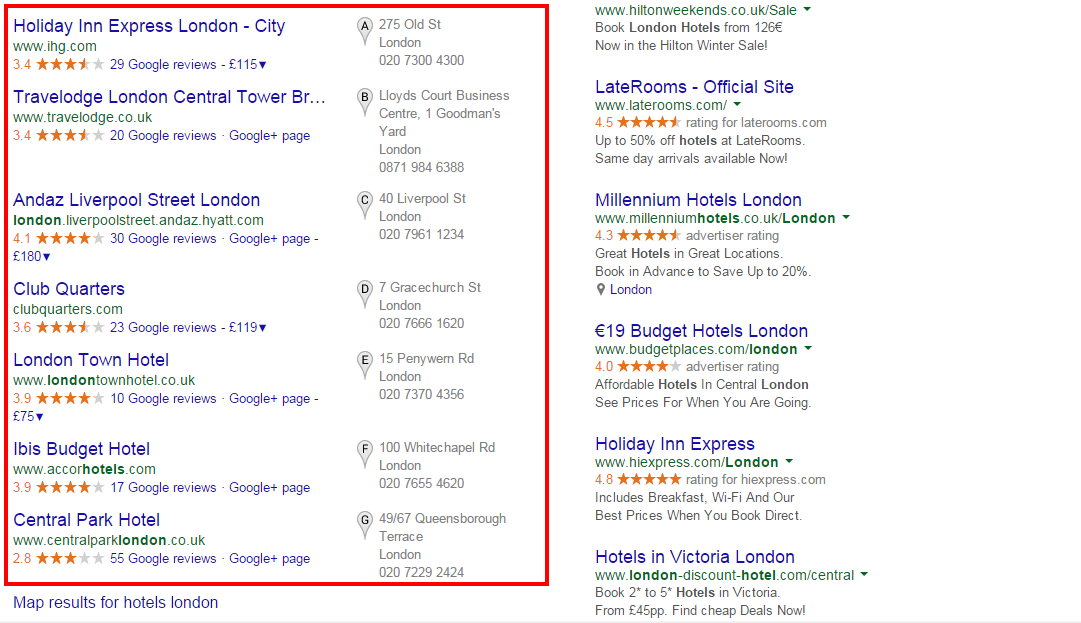 Paid Search:
As with organic search, many hotels allow the large OTAs buy their paid search demand. Search for any hotel by name and more often than not, a large OTA will be the top ranking website as they are using paid search advertising for this keyword. Again, the dynamic here is that the OTA is buying the traffic and selling on the booking at a large markup to the hotel. By bidding directly on their own search terms, hotels can again exclude unnecessary middlemen and drive down their cost per reservation.
Remarketing:
As your hotel drives more traffic to its own website, re-marketing to non converting visitors is essential. This is where we show your hotel banner adverts to visitors who have been on your website but not converted while they browse heavily trafficked websites such as Facebook, Twitter and other websites on the Google Display Network. In this way, we win back non converting website visitors into guests.
All these actions combined will have a dramatic impact on driving down your cost per reservation and increasing your occupancy levels.
Want to learn more about hotel marketing - let's talk!