About the Client:
This company is the leading manufacturer of shutters (plantation and roller), blinds, security doors and solar panels in Western Australia. The company had been using one of the world's largest digital marketing companies to manage their SEO and Paid Search activities. The company grew frustrated by the digital marketing agency's policy of not giving them access to their own AdWords account and so started to consider alternative providers. After a competitive tendering process, DPFOC was chosen as the new agency.
Channels Used:
• Search Engine Optimisation.
• Paid Search Advertising: Google, Yahoo, Bing.
• Remarketing: Google's Display Network, Facebook
Our Approach:
Getting Clean Data: The client had a target cost per lead that it wanted us to work to achieve. However, upwards of 40% of leads came through the client's call centre. The previous digital marketing agency did not have telephone tracking in place. This meant that there was no meaningful data available as to cost per lead by channel as telephone leads were going untracked. DPFOC immediately installed telephone tracking which we linked to the client's Google Analytics account. This gave us visibility into cost per lead at channel and keyword level and so facilitated scientific bidding decisions.

SEO: The previous agency's approach was a black-hat and highly risky one. Their primary method for building links was a blog that they set up on which the posted articles and in these linked back to the main company website. All links were optimised for target keywords. This is a clear violation of Google's quality guidelines so we stopped this activity immediately. Instead we focussed on generating genuinely compelling content and building high quality, editorial links that would always be future proofed against algorithm updates.



The company is generating in excess of 250 organic daily visitors which yields in the region of 15 inquiries per day between inquiry forms and telephone calls. As below, we intend to rebuild the website to increase the conversion rate.
Paid Search:
Having telephone lead data flow into Analytics enabled us to quickly see that several keywords were either under or overbid. The underbid keywords were getting relatively few clicks due to low average positions while the overbid clicks were getting lots of clicks but the associated conversion rates were too low and so the keywords were not within target CPL. By modifying the bids to the correct levels, we quickly got all keywords within target CPL.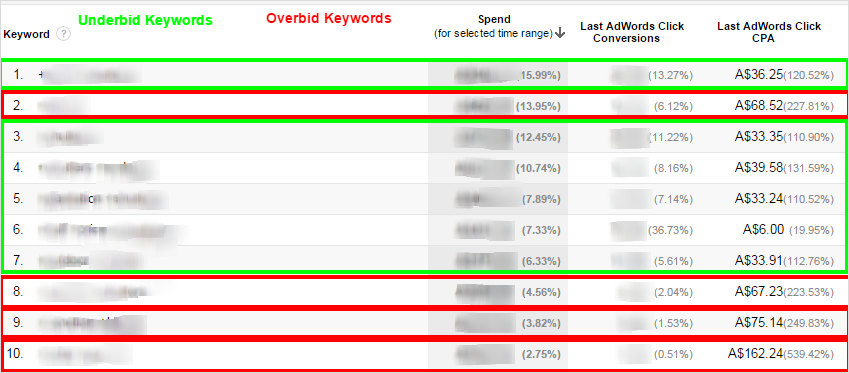 With telephone tracking in place, we could immediately see the keywords within target CPL (below $65) and the ones over target. By reallocating money from the over target keywords to the under target ones, we could grow lead flow while ensuring that all keywords were within target CPL. The previous digital marketing agency was bidding blindly.
Remarketing:
The products sold by the company are large ticket, highly involved purchases. Such purchases are characterised by detailed research and lengthy sales cycles. Accordingly, we set up remarketing campaigns on Google's display network as well as on Facebook to re-engage those users who did not make an inquiry either by phone or inquiry form.
SEO ROI:
• Monthly Spend: $2000
• Monthly Leads from Organic Visitors: ~500
• Target CPL: $65
• Delivered CPL: $4
• Monthly Organic Visitors: ~6500
Paid Search ROI:
• Monthly Spend: $12000
• Monthly Leads from Paid Search Visitors: ~280
• Target CPL: $65
• Delivered CPL: $42
Growing from Here:
As part of DPFOC's active budget management service, we are now incrementally increasing the paid search budget each month while closely monitoring CPL as we do. We will continually and gradually increase the budget until we are accessing every possible profitable lead in Western Australia. We feel that doubling the current lead flow is a realistic target within the next 12 months.

In order to drive down CPL still further, we are working with this client to build a new responsive (mobile, tablet and desktop optimised) website. The new website will have more imagery, videos and testimonials all wrapped in a clean, fresh and modern design. This contrasts with the current website which feels somewhat old fashioned at this point albeit still delivering extremely strong lead flow.